by Corey Fagan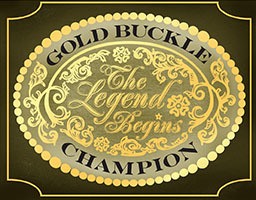 Gold Buckle Champion is welcoming in the New Year and ready to make a huge difference by rewarding our young leaders in the community. The kick off begins at the Idaho Cutting Horse Association's Spring Aged Event, which will be held March 16-20, 2011 at the Idaho Horse Park in Nampa, Idaho. Part of our mission statement is to preserve what our precursors taught us, where neighbors came together to ensure each other's survival.
With this concept we have developed a dynamic program designed to foster a helping-hand movement, a barn-building experience if you will, in our youth through a merit oriented program, thus preserving our western heritage, through horse sports and non-profit community activities.
This is definitely a program that you want to be a part of and that you don't want to miss! On Saturday, March 19th, during the 2011 ICHA Spring Aged Event, Gold Buckle Champion will present "Legends in the Making" encouraging all school active, young leaders from ages 6 to 21, to begin a conscious journey over the next five months to get out there and make a difference. During this time all the participants will receive accumulative points for all the effort they put into the program.
They will be able to use these points to purchase prizes at an auction held during the 2011 September ICHA Futurity and Aged Event.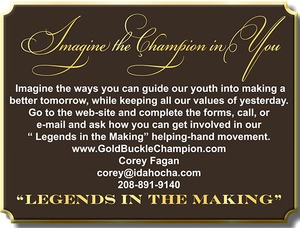 The auction will hold amazing items donated by the community and Gold Buckle Champion.
The program is open to every child that wishes to participate. The great thing is…the more kids that get involved, the better the community will be for their efforts and the child will receive more points to use at the auction in September.
Everyone is encouraged to come out March 16th through the 20th and enjoy the incredible sport of cutting. Come out and watch these athletes get out there and do what they love best and what they have been bred and trained to do. If you have never been to the ICHA Spring Aged event held at the Idaho Horse Park in Nampa, Idaho consider this a "WARNING", it can become addicting for all ages. As a spectator there are many exciting things to see and do while at the show. For one, shopping through "Vendor Trail" is a great shopping experience where you can find unique items to take home. All that shopping may leave you hungry for yummy food, prepared for you fresh, by chefs at the Idaho Center. On Saturday the 19th come out and get a sneak peek at the Idaho Preferred Farmers Markets from all over the Treasure Valley, this will give you an idea of what is available and maybe find some ideas that you haven't tried yet.
Keep an eye out for educational clinics that will be held at different times throughout the show. Bring the kids out to enjoy the Family Old Fashioned Country Fair, enjoy the horseshoe pit, seed spitting contests, sack races, and good old fashioned Hershey S'mores while supporting your Local Police and Fire Departments. Tune into WOW Country 104.3 FM and pay close attention to Idaho's local KTVB Channel 7 news for more details before and during the show.
If that isn't enough, On March 19th Gold Buckle Champion will present "Legends in the Making" because we believe there is a champion in each and every one of us. The Year 2011 will blossom those "genuine champions" and show them in their true form! Look for them in your neighborhood, watch them as they clean up parks, encourage them as they help out at local non-profits, and spend time with the elderly lending a hand or reading a book.
Keep track of them as they further their education while trying new projects. Give them confidence as they expand their minds while joining in on different lessons held at different business locations in the community. These individuals shape our tomorrows and Gold Buckle Champion wants to celebrate them. The ICHA is passionate in supporting the future of our next generation and that is why you will find this kick off during the 2011 ICHA Spring Aged Event held at the Idaho Center in Nampa. This event will introduce you to a way of life that is exciting, wholesome, and demands heroes. Each and every sponsor of this program cares about our future and is ready to make a difference, to demand excellence and to keep the FUN in the mix. 2011 "I believe" will be remembered as the year of Champions. It is in each and every one of us, it is in our children, and it is going to be a great way to celebrate, encourage and Imagine the Champion in YOU.