It's time for thundering hooves in downtown Las Vegas! Join us May 16-19 as we celebrate our Western Heritage Helldorado Style!
On May 16th this western community is calling all locals to experience a HUGE part of Vegas history!! Come on down to HELLDORADO DAYS held at 7th and Stewart, May 16th YOUR KIDS ADMISSION IS FREE … this is how our cowboys say thank you to the local community.
Come on down early! Children between the ages of 5-8, will be given a raffle ticket to the Gold Buckle Western Exceptionals, special seating will begin at 5:00 for all the participating schools to watch the pre-rodeo events with the rodeo starting at 7pm.
Raffle numbers will be called shortly after 5:00 pm and those kids will participate in a safe and fun pre-rodeo activity, all winning raffles will receive a prize and the winner of the event will receive a brand new Galaxy Tablet!!
Stay and experience the rodeo and so much more!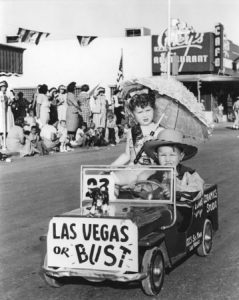 Carnival.... Food... and Shopping!!
Hold on to your hats for Saturday May 18, GET READY for the HELLDORADO PARADE scheduled at 5pm. Directly after enjoy the PRCA Professional Rodeo at 8pm. 4 entire days of FUN THAT YOU WANT TO BE PART OF this year!! History is always in the making!!