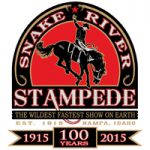 Snake River Stampede has endorsed our western heritage art projects for its western heritage preservation by providing our youth with Stampede Festival horses to decorate for their 100th Year Snake River Stampede Community Celebration Festival, to be auctioned for our youth programs.  These fund scholarships, classroom makeovers, and western heritage projects and prizes for our youth.   In the 1800's every large ranch held a rodeo or a cutting and invited the entire community out to be involved.  With this came the original community networking celebration where everyone shared their wares, stories, and laughter, which we will experience in full force this July in downtown Nampa.  The art project finalists, along with the artists who inspired them, will be on display downtown Nampa along with a youth demonstration rodeo Friday and Saturday.

Gold Buckle Champion is presenting FREE youth activities to coincide with the Stampede Festival Events with the help of the Nampa FFA, funded in part by the sale of the Stampede Festival horses .  See all the fun events going on in Nampa July 9-11th.
Sucker Horse - pick a sucker for participating in any of the Western Heritage Events and get a chance to win a prize
Western Heritage Events

Stick Horse Racing
Dummy Roping
"Rough Stock" photo opportunities
Rodeo Clown Face Painting

Dummy Roping Contest  Friday July 10th Only during the Fireman's BBQ

Girls ages 6 and under
Boys ages 6 and under
Girls ages 7-9
Boys ages 7-9
Great prizes to 3rd place in each age group
The entire community will be out with lots of fun, family entertainmentKiwanis Annual Steak Fry
Featuring New York Strip Steak
Lakeview Park Nampa July 9, 2015
5-8pm
Celebrating 100 years of community service
Adults $12-NY Steak with sides
Children 12 and under $6-Cheeseburger
Western Heritage Events for Kids by Gold Buckle Champion and Nampa FFA
Music by
Idaho's Premier Progressive Bluegrass Band
CHICKEN DINNER ROAD 6-8pm
Beer Garden (Crafted beer and wine) Sponsored by Crescent Brewery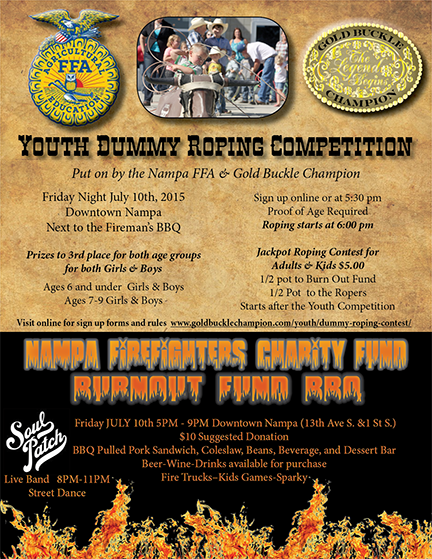 Friday, July 10th with a street dance to Soul Patch, a BBQ with the Nampa Fire Department for their Burnout Fund, Dummy Roping Contest and kids activities with
Gold Buckle Champion and the Nampa FFA, photo opportunities with pictures in an old west town, Adult Dummy Roping Jackpot.  FUN for the entire family!
Friday JULY 10th 5PM - 9PM Downtown Nampa (13th Ave S. &1 St S.)
$10 Suggested Donation
BBQ Pulled Pork Sandwich, Coleslaw, Beans, Beverage, and Dessert Bar
Beer-Wine-Drinks available for purchase
Fire Trucks–Kids Games-Sparky

Friday Night July 10th, 2015
Downtown Nampa
Next to the Fireman's BBQ
Prizes to 3rd place for both age groups
for both Girls & Boys
Ages 6 and under Girls & Boys
Ages 7-9 Girls & BoysSign up online or at 5:30 pm
Proof of Age Required
Roping starts at 6:00 pm
Jackpot Roping Contest for
Adults & Kids $5.00
1/2 pot to Burn Out Fund
1/2 Pot to the Ropers
Starts after the Youth Competition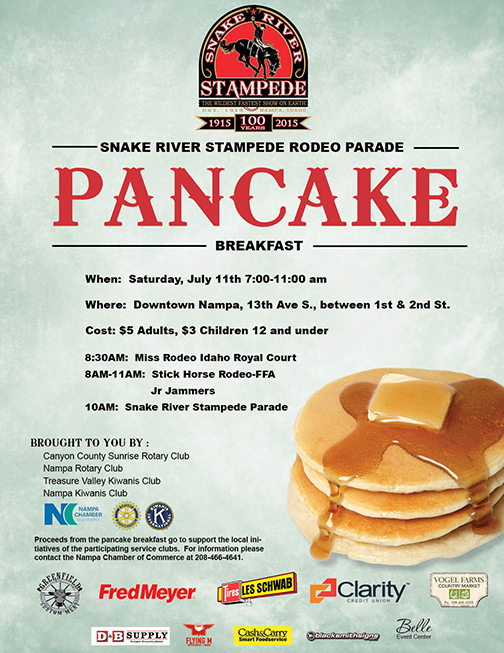 Saturday, July 11th starts bright and early 7:00 AM with theBuckaroo Breakfast, more fun and games for the kids, and the northwest's largest all horse parade starting at 9:00 am. Prizes for the kids for participation in our Western Heritage activities with Gold Buckle Champion and Nampa FFA.
Saturday, July 11th 10:00am Downtown Nampa. Celebrating 100 years, this is one of the largest all-horse parades in the nation and one of the few Rodeo Parades left in the Treasure Valley.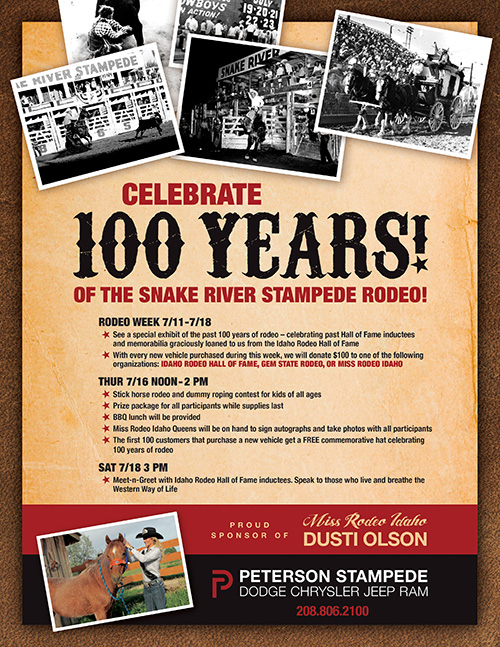 Thursday July 16th from Noon to 2:00 PM  Gold Buckle will be there to help along with the FFA Sucker Horse and photo opportunities!  Peterson Stampede Dodge in Nampa at the Auto Mall across from the Snake River Stampede Rodeo!
You can find out more on the Snake River Stampede website as to how you can get involved.  www.SnakeRiverStampede.com