The spirit of giving is not a stranger to the members of the Idaho Cutting Horse Association. With the heart of the holiday season just around the corner, we feel that it is the perfect time to acknowledge and sincerely thank those who go above & beyond during the ICHA shows, and throughout the entire year. Each contestant, trainer, and sponsor makes a difference through everything that they do, as they each make heartfelt efforts to proudly keep the western heritage alive. We are proud to know them and value them as part of the ICHA family.
You often hear the word "family" as you greet the members at an ICHA show. Welcoming sponsors into that family isn't unusual; members, like Scott Amos, will make his way around to let our sponsors know how much they mean to us. Our sponsors make it possible to keep the western way of life alive and well. Our clear mission, as a group, is to educate new generations on the sport of cutting, introducing others to a unique lifestyle that keeps our equine industry strong.
Exemplary sponsor Hal McCormack, owner of the Big Iron Ranch, truly has a strong belief system when it comes to preserving the horse industry. Big Iron Ranch sponsored the Uncola classes this past year at both the ICHA Spring Aged Event and the ICHA Futurity & Aged Event. Keeping these older champion horses going is something Hal is very fervent about.
"I choose to sponsor the 'Uncola' because I know there are a lot of talented older horses out there; but, for whatever reason, maybe they were injured early on, whatever happened in their career they had to stop. I hate to see the older horse go out to pasture. They are the ones that teach our grand kids and our novice riders. These are the horses that are broke and trusted; they have earned respect and it's a shame to me if they are a good horse that they don't still get a bit of glory. They have phenomenal skills, a ton of talent and are fun to watch." Hal went on to say, "As I grow older, I feel life slowly slipping away from me a little bit. I know that a lot of us can relate to that. We still like to get out there and play basketball, or whatever it is that makes us feel great for the moment. I personally like to make sure the added money is there so these older champion horses have the opportunity for their owners to take them to the show and let them re-live their glory. Kind of like when I'm feeling okay, I can still get out and play with the best of them."
Compassion For A Badly Beaten Stud Horse, Started The Journey
The Big Iron Ranch, originally Triple M Farms, has been making a difference for the past decade. Hal's grandpa and dad passed on the passion of cutting. Hal found his way to other things, but his deep roots brought him back to the industry when his daughter developed her own interest in horses. Compassion for a badly beaten stud horse initiated the journey. Now, the Big Iron Ranch breeds high quality horses and is adamant that the price will be affordable. "This business is only going to grow if everyone gets a chance to play." said Hal.
The Big Iron Ranch is home to stallion Nurse N Cat. Many agree that he is one of the best bred stallions in the industry. Nurse N Cat comes from strong bloodlines stemming from his sire, High Brow Cat, with earnings of over $500,000, as well as being an offspring of Nurse Rey- dam of Jewel Rey. This year at the NCHA Futurity in Fort Worth, Texas, held November 21 – December 11, 16% of the total foals entered (97 foals in just the Open Futurity alone) are sired by High Brow Cat. Keep your eye on Nurse N Cat, who is a half- brother to leading sire Dual Rey. He is sure to dazzle you!
The Big Iron Ranch is committed to continue to breed, raise and show top quality horses that will help get the equine business back on its feet. Hal's horses have earnings of over $200,000. While some say he should raise the stud fees, he feels strongly about sticking to his belief system; enthusiastically declaring "Committed folks and their families should get a well bred, strong horse who can step up to the plate. I will always give people the best product available at an affordable price. It's not just about the money- nothing gives me more joy than to see someone win on one of my horses."
Hal supports many great causes that mostly involve children. You will find that he is a big supporter of anything that has to do with adoptions, and foster kids. He passionately stated, "I know that these kids don't have much and they are so appreciative of everything they get. I believe that when we are doing well, we also need to remember where we came from; we really need to give back to the community. I like giving back to the kids". So, it was a huge enhancement to Hal's ambition that the Uncola Class supported Toys for Tots this year during the ICHA Futurity and Aged Event.
Hal is a firm believer in watching what we do to preserve the western heritage and the sport of cutting. Giving an incredible horse and trainer its due, believing that everyone should have a fair opportunity to show and win-- his strong opinions sometimes seem to go against the grain, but they come from his heart, seemingly with integrity and passion intact. The Big Iron Ranch would like to thank everyone who bred to their horses this year, and they would like to extend warm wishes for a safe and happy holiday season to all.
More Legends To Be Proud Of..
Frank Martin, President CEO of Martin- Harris Construction, initiated a Calcutta of the Uncola Open Finals at this year's ICHA Futurity & Aged Event; the proceeds of which went directly to the Marines to support the Toys for Tots program.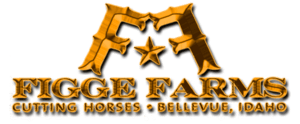 The ICHA family is filled with giving hearts all year long- people who truly make a difference. Jim and Sandy Figge of Figge Farms have sponsored several award saddles and outfitted the entire group of Ride for Joy kids for the fashion show. Lawson Hadlock went the extra mile to entertain the crowd during the 3rd Annual ICHA Bridleless Cutting Event and decided to go not only bridleless, but bareback as well! Robert Borick always has ideas and suggestions to help make our shows great. Brian
Anderson serves on the ICHA Board of Directors as the Vice-President, and always is willing to offer a helping hand at the shows. Bob Hulden, ICHA Show Manager, made pizzas for the Welcome to Idaho Party and missed watching his own horse being shown to cook them and make sure they were ready for our guests.
And this is only to name a few of the marvelous individuals that we call family. Hats off to those who go the extra mile! "You" keep the spirit of giving alive and create memories that warm us from a deeper place, lasting like soft embers after a fire. That is the spirit that drives us all towards a common place, the heart of a "family".
On behalf of the Idaho Cutting Horse Association, we would like to wish each and every one of you a very Merry Christmas. May the spirit of the season live within each of us throughout the year and the Heart of Giving remain a constant glow.